COMING MARCH 24:
Songs for Building Bridges not Walls!
Folk songs, travel tales, vintage jazz and humor to give you hope and keep you strong.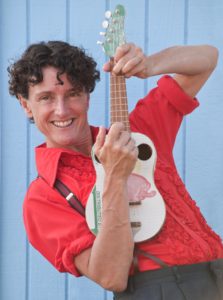 Friday Night Folk is pleased to present eclectic singer-songwriter Zoë Lewis on March 24 at All Souls Unitarian-Universalist Congregation, at 19 Jay Street, New London, CT.
Zoë Lewis is a band in a body. She plays jazz, jump jive, Latin grooves, swing, international folk, funk originals on anything from the piano to the spoons. Troubadour, vaudevillian, storyteller, adventurer, singer-songwriter, Zoë was winner of the Colorado Rocky Mountain Folks Festival Troubadour Award in 2003, New Folk Winner 2002 at the Kerrville Folk Festival in Texas and 2001 Falconridge Folk Festival Audience Favorite.
Zoë started studying music in England at the age of seven in her village of Rottingdean on the south coast of England. She arrived in the United States in 1990 and began performing originals on guitar, piano, harmonica, ukulele, penny whistle, accordion, and human trumpet and has since then toured extensively, performing at numerous folk clubs, coffee houses, colleges, music festivals and pride marches.
Order your tickets HERE or make reservations by calling 860-443-0316.
Tickets are $20 per adult at door; $17 per adult in advance; $10 Students/Military w/current ID.
Concert starts at 7:30 PM.
Doors Open at 7:00 PM
Unity Hall at All Souls UU Congregation
19 Jay Street, New London, CT
---
THIS SEASON:
You told us who you'd like to see at Friday Night Folk, and we listened!
Get ready for a great season of folk favorites, and a few new voices we think you'll love!
ZOE LEWIS – March 24
RICHARD SHINDELL – April 21
THE JOHNSON GIRLS – May 12
Friday Night Folk concerts are held at:
ALL SOULS Unitarian Universalist Congregation
19 Jay Street
New London, CT
Concerts begin at 7:30pm. Doors open at 7:00PM