COMING JANUARY 20:
GEOFF KAUFMAN AND STEVE GILLETTE & CINDY MANGSEN
Friday Night Folk is pleased to welcome two great folk acts to the stage for its January 20 concert. Beloved troubadour Geoff Kaufman will take the Friday Night Folk stage with a variety of folk, maritime and Americana music. Husband and wife performers Steve Gillette and Cindy Mangsen will delight audiences with their beautiful vocal and instrumental musicianship. The concert will be held at All Souls Unitarian-Universalist Congregation at 19 Jay Street in New London.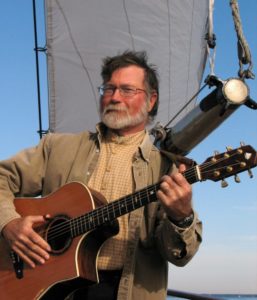 For the past 28 years, Geoff Kaufman has been leading audiences to find truth, humor, and beauty in folk music. Songs of the sea, songs of the earth, songs of the heart and the spirit – all of these are likely to be woven into Geoff's concerts. Ancient ballads, work songs, and songs of love; poignant songs of people in struggle, humorous glimpses of human foibles: Geoff has entertained and touchedaudiences near and far.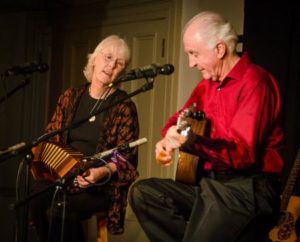 Steve Gillette and Cindy Mangsen have been traveling, performing and recording together since their marriage in 1989. They have become an audience favorite for their genuine affectionate relationship and for their sweet harmony singing and intricate guitar and concertina work. Steve Gillette has been writing since since the 1960's. His songs have been covered by Ian and Sylvia, John Denver, Garth Brooks, Linda Ronstadt, Tammy Wynette, and many others.
Order your tickets HERE or make reservations by calling 860-443-0316.
Tickets are $17 in advance, $20 at the door. Student and Military with ID: $10.
Concert starts at 7:30 PM.
Doors Open at 7:00 PM
Unity Hall at All Souls UU Congregation
19 Jay Street, New London, CT
---
THIS SEASON:
You told us who you'd like to see at Friday Night Folk, and we listened!
Get ready for a great season of folk favorites, and a few new voices we think you'll love!
GEOFF KAUFMAN with CINDY MANGSEN AND STEVE GILLETTE – January 20
PETE SEEGER TRIBUTE CONCERT – February 24 (This concert will benefit for START FRESH, Inc., the New London-based refugee resettlement organization responding to the humanitarian crisis resulting from the regional conflict based in Syria.)
ZOE LEWIS – March 24
RICHARD SHINDELL – April 21
THE JOHNSON GIRLS – May 12
Friday Night Folk concerts are held at:
ALL SOULS Unitarian Universalist Congregation
19 Jay Street
New London, CT
Concerts begin at 7:30pm. Doors open at 7:00PM